We are scholars who work closely with and learn from practitioners, policy-­makers, and young people themselves (both in the U.S. and internationally) on issues such as youth violence, homelessness, reproductive health, and educational inequalities.
Leadership
Colette (Coco) Auerswald, MD, MS (Co-Director)
Dr. Auerswald is a pediatrician and associate professor in Community Health Sciences in the School of Public Health at UC Berkeley and is the director of the Masters program for the UCSF-UC Berkeley Joint Medical Program. She has over 20 years' experience in the clinical care of marginalized youth in San Francisco. She combines ethnographic and social epidemiologic methods to describe the social determinants of the health of marginalized youth to inform structural interventions. She has also developed methodological expertise on the sampling of marginalized populations and in the use of biological outcomes in the study of the social determinants of adolescent health. She has focused her work primarily on the study of homeless youth in the US, street children in East Africa, low-income youth of color, and LGBTQ youth.
Emily Ozer, PhD (Co-Director)
Dr. Ozer is a clinical psychologist and professor in Community Health Sciences in the School of Public Health at UC Berkeley.  She has extensive experience in multi-disciplinary collaborations to promote positive adolescent development, particularly in youth-led participatory action research (YPAR), civic engagement, violence prevention, and school-based interventions. Dr. Ozer is particularly focused on the promotion of adolescent health through interdisciplinary and multi-method research. Recent efforts involved a multi-method study of an empowerment-oriented participatory research intervention on adolescents attending San Francisco public schools. In her work, she seeks to bridge collaborative-participatory approaches with traditional scientific designs by testing the impact of intentional variation in collaborative processes.
Ndola Prata, MD, MSc (Co-Director)
Dr. Prata is the Director of the Bixby Center for Population, Health & Sustainability, a Professor in Residence in Maternal and Child Health and the second holder of the Fred H. Bixby Endowed Chair in Population and Family Planning in the School of Public Health at UC Berkeley. She is a physician and medical demographer from Angola. Her research focuses on the design, implementation, and evaluation of maternal, sexual and reproductive health interventions that maximize distribution and financing to increase access to care, contraceptives and abortion in developing countries, particularly for underserved populations. Her projects investigate strategies for harnessing existing resources, including human capacity and health care infrastructure while also gathering evidence for setting priorities on national health agendas.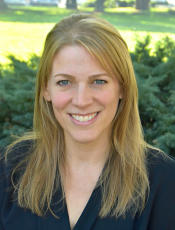 Marieka Schotland, PhD (Executive Director)
Dr. Schotland is a community psychologist. She has a wide range of substantive expertise in positive school climate and connection, restorative justice, youth program evaluation and health promotion among diverse adolescents. She brings her outstanding management skills to the position of Executive Director where she is responsible for managing the Center's affiliates, recruiting and maintaining the Community and Youth Advisory Boards, collaborating with community and academic partners, contributing to strategic planning and decision-making, facilitating, managing the Fellowship program and managing all planning, outreach, communications and events.
Current Doctoral Students
Catherine Duarte, MSc is a PhD candidate in the Division of Epidemiology at UC Berkeley's School of Public Health and a Robert Wood Johnson Foundation Health Policy Research Scholar. She holds an MSc in the Social and Behavioral Sciences from the Harvard T.H. Chan School of Public Health and a BA in Sociology from Boston College. Catherine's research focuses on examining how education and criminal legal system policy may be associated with racial/ethnic health inequities throughout the lifecourse. In her role as an i4Y GSR, Catherine works with Emily Ozer's team on several projects including efforts underway by the Research Practice Partnerships, grant applications, empirical analyses, manuscript development, and mentoring undergraduate researchers.
G. Allen Ratliff, MSW, LCSW is a doctoral candidate in the University of California, Berkeley School of Social Welfare. Allen is the project director for the i4Y SF YEAH project, funded by the Robert Wood Johnson Foundation Interdisciplinary Research Leaders program, a Youth Participatory Action Research (YPAR) study on how young people experiencing homelessness experience violence. Allen has worked with young people for fifteen years as an educator, clinical social worker, and researcher. His clinical work and research has been grounded in person-centered, trauma-informed approaches to supporting young people with marginalized experiences, including young people experiencing homelessness, queer and transgender young people, young people involved in sexual economies, and young people affected by institutional and structural violence.
Past Doctoral Students
Emily Liu is a current MPH student studying Epidemiology and Biostatistics and received her BA in Community Health from Brown University in 2014. Emily has previously worked in direct service and development for non-profit organizations focused on supporting homeless youth and young adults in the Bay Area. She hopes to challenge health inequities by integrating local insights into research and practice and to bring her training back to the community where she lives and works. As a Graduate Student Researcher for i4Y, Emily works with Dr. Coco Auerswald to develop research practice policy partnerships to end youth homelessness in the Bay Area.
Ivy Hammond, MSW is a social worker and a current doctoral student at the University of California, Berkeley School of Social Welfare, where she serves as a graduate student researcher with the California Child Welfare Indicators Project. Ivy also maintains a position as a research assistant with the Children's Data Network at the University of Southern California. Prior to pursuing a PhD, she worked for the Los Angeles County Department of Children and Family Services as an Emergency Response child welfare worker and as a mental health clinician for DCFS and Probation-involved families.  Her research interests include the improvement of child protection systems, particularly with regard to the experiences and outcomes of LGBQ and gender non-binary children and youth that have experienced commercial sexual exploitation. As a Graduate Student Researcher for i4Y, Ivy works with Dr. Coco Auerswald to support relationships with service providers in Oakland, CA.
Rebecca Hémono, MPH is a doctoral student in public health at UC Berkeley and currently serves as a Graduate Student Researcher with Innovations for Youth (i4Y). Rebecca earned her Master of Public Health at École des Hautes Études en Santé Publique in France and her BA from American University. Her past research has focused on exploring risks and experiences of gender-based violence for adolescent and young women refugees. For her doctoral research, she is interested in applying experimental methods to measure the impact of interventions implemented in low and middle-income countries which aim to prevent or reduce intimate-partner violence. At i4Y, Rebecca manages research and program activities under the Reproductive Health, Sexuality and Relationships initiative, including the Child Marriage and Youth Empowerment Group.
Keegan Freiburger is a current MSW/PhD Student in Social Welfare at UC Berkeley, which sits on the territory of Huichin, the ancestral and unceded land of the Chochenyo Ohlone, the successors of the historic and sovereign Verona Band of Alameda County. Before attending graduate school, they worked on youth engagement, school climate, and equity in Minneapolis Public Schools and on restorative justice in South Minneapolis, occupied Dakota land within Mni Sota Makoce, not far from Bdote, a sacred origin site to the Dakota people. Keegan's research interests include Healing/Transformative Justice, Community Interventions into Structural Violence/Oppression, White Supremacy in Education, Youth Liberation/Empowerment, Transformative Participatory Research, and Critical Pedagogy.  At i4Y, Keegan works with Emily Ozer's team in several roles including facilitation, research, and partnership development.
Current Masters Students
Aurora Chavez is a Master of Public Health candidate in Health and Social Behavior. She began her MPH in fall 2019 and is interested in reproductive justice, health equity and adolescent health. She joined the Wallace Center after working at Essential Access Health, working on adolescent sexual and reproductive health programs in South Los Angeles, as an Adolescent Health Coordinator. She received a BS in Public Health from California State University, Northridge. She currently works for the Wallace Center and Innovations for Youth and is researching innovative uses and examples of technology in adolescent reproductive health programs and interventions. 
Brian Villa is a MPH/MSW student at the University of California, Berkeley. He currently works with Emily Ozer and Innovations for Youth as a graduate student researcher. His role includes implementing youth voice modules in San Francisco Unified School District, and supporting the Youth Equity Scholars (YES) program, a research apprenticeship and mentorship program. Brian has over six years of experience assisting young people with Youth Participatory Action Research (YPAR) projects. He previously worked as the Community Health Manager at the RYSE Youth Center in Richmond, CA, and as a Teacher Apprentice with the Pin@y Educational Partnerships (PEP) in San Francisco. At RYSE he mentored public health interns and helped them conduct YPAR projects on topics such as mental health/coping, lgbtq safety & visibility, gender justice, and student engagement. In PEP, he taught Asian American Studies at Balboa High School and worked on YPAR projects on student voice, school policy, stress, and violence. His interests include youth leadership and development, mental health, decolonizing public health frameworks and methodologies, and healing-centered/liberatory practices.
Past Graduate Students
Chris Rubeo is a graduate student at the UC Berkeley School of Public Health in the Health and Social Behavior concentration. His work has primarily focused on the use of art and music as creative tools to empower youth. At Berkeley, he studies topics at the intersection of public health and city planning with a focus on health equity. As a GSR at Innovations for Youth, Chris leads the center's print and digital media efforts and supports several participatory research projects aimed at improving adolescent health and wellbeing. He is an avid cook, loves to climb, and continues to pursue his own musical projects.
Elle Ford is a first year MPH student in the Maternal Child and Adolescent health program at UC Berkeley. She works as a Graduate Student Researcher with Innovations for Youth (i4Y) in the Child Marriage and Youth Empowerment (CMYE) group. Within CMYE she manages the speaker series, supports faculty in preparation of research briefs, manuscripts and grant submissions, and serves on a cascading mentorship team as part of the Undergraduate Research Apprentice Program (URAP). She earned her BA in Psychology from University of Nevada Las Vegas. She did extensive research in the department of Anthropology focusing on growth metrics, nutrition status and growth trajectories in a small-scale non-industrial population in Tanzania. She is currently working towards earning her MPH in Maternal Child and Adolescent Health at the UC Berkeley School of Public Health. Her main research interests lie within youth empowerment, food and water insecurity, as well as reproductive health education—particularly in the developing world.
Natasha Borgen is a first year MPH student in the Maternal, Child, and Adolescent Health concentration and received her BS in Environmental Health with a minor in Global Health from the University of Washington. She is a passionate advocate for youth and has had the opportunity to work with diverse youth populations over the past three years -- as a teacher for students in a an under-resourced, public high school in Colombia; as a program leader for teens participating in educational and service-based international projects; and as a residential counselor for youth in foster care in a therapeutic group home setting. As a graduate student researcher with i4Y, Natasha works on multiple projects with Dr. Coco Auerswald and her team to address youth homelessness in the Bay Area.
Past Post Docs
Alison Cohen, PhD, MPH, 2017 - 2017 Youth & Inequalities postdoctoral scholar
Alison is affiliated with the School of Public Health and Graduate School of Education. Trained in both public health and education, she has a PhD in epidemiology and MPH in epidemiology and biostatistics from UC Berkeley and a BA in education studies and community health from Brown University. Her research focuses on links between schooling and health, evaluating programs and policies that affect youth, and social determinants of maternal, child, and adolescent health. She has experience conducting community-based participatory research studies and program and policy evaluations, using both quantitative and qualitative data. Her work has included developing and participating in multiple research-practice partnerships in the San Francisco Bay Area, nationally, and internationally.  Current research includes: (1) partnering with Generation Citizen, a youth civic education and engagement non-profit operating across the US, to evaluate programming and understand patterns of youth civic engagement in diverse communities around the US, and (2) studying links between education and health across the lifespan, including exploring how schooling and early marriage and early childbearing interrelate in a longitudinal cohort of adolescents living in rural Honduras.
Advisory Boards
We will develop and maintain youth and community advisory boards while continuing our deep and long-term engagement with community partners to inform the development, implementation and dissemination of our research. We seek to establish an advisory board of relevant scholars, policymakers, providers, and community members who will guide I4Y's development and direction, including local, national, and international leaders in multiple sectors influencing adolescent well-being. We will also establish a parallel adolescent advisory board that is trained and scaffolded for meaningful engagement and to work together effectively with the Community Advisory Board to influence and advise I4Y development.
Affiliated Faculty
Jennifer Ahern

, PhD, MPH (UC Berkeley School of Public Health- epidemiology)

Prudence L. Carter, PhD (UC Berkeley School of Education, Dean)
Ronald Dahl, MD (

UC Berkeley School of Public Health, Institute for Human Development, Center on the Developing Adolescent

)
Julianna Deardorff, PhD (UC Berkeley School of Public Health- psychology, pubertal development)
Jeffrey Edleson, PhD (UC Berkeley School of Social Welfare- social work, violence)
Hildy Fong, PhD, MHS (

UC Berkeley School of Public Health

- global health, adolescent health)

Andrea Garber, PhD (UC Berkeley School of Public Health-UCB and UCSF; adolescent nutrition)
Kim Harley, PhD (UC Berkeley School of Public Health- environmental health and adolescents)
Lia C. Haskin Fernald, PhD, MBA (UC Berkeley School of Public Health- nutrition, international economic interventions)
Denise Herd, PhD (UC Berkeley School of Public Health- anthropology, African American youth and substance use)
Nikki Jones, PhD (UC Berkeley Department of African American Studies)
Douglas P. Jutte, MD, MPH (UC Berkeley School of Public Health- pediatrics, community development and health)
Kristine Madsen, MD, MPH (UC Berkeley School of Public Health- pediatrics, school-based activity nutritional and interventions for children and adolescents)
Jane Mauldon, PhD (UC Berkeley Goldman School of Public Policy- demography, public policy)
Sandra McCoy, PhD, MPH (UC Berkeley School of Public Health- epidemiology, economic interventions to promote health)
Deborah McKoy, PhD (UC Berkeley City and Regional Planning)
Meredith Minkler, DrPH (UC Berkeley School of Public Health- community based participatory research)
Alexandra Minnis, PhD, MPH (UC Berkeley School of Public Health and RTI International- epidemiologist, social determinants of adolescent health)
Erin Murphy-Graham, EdD (UC Berkeley Graduate School of Education- comparative and international education)
Nancy Padian, PhD, MPH (UC Berkeley School of Public Health- structural interventions for adolescent reproductive health in low-resource settings) 
Janelle Scott, PhD (UC Berkeley School of Education)
Valerie Shapiro, PhD (UC Berkeley School of Social Welfare- school-based youth development)
Jennifer Skeem, PhD (UC Berkeley School of Social Welfare & Goldman School of Public Policy: Associate Dean of Research, juvenile justice)
Ahna Suleiman, DrPH (UC Berkeley

UCB Institute for Human Development

- transdisciplinary public health)
Paul Sterzing, PhD  (UC Berkeley School of Social Welfare- bullying prevention, school-based promotion)
Susan Stone, PhD (UC Berkeley School of Social Welfare- school wellness centers, social work)
Leonard Syme, PhD (UC Berkeley School of Public Health- sociologist, founder of the field of social epidemiology)
UC Berkeley Center Affiliates
External Academic and Research Affiliates